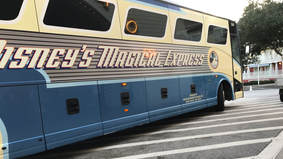 Disney's magical express is for guests booked at a 
Walt Disney World
 owned and operated resort and arriving at Orlando international airport.  Meant as a money-saver as well as a convenience, the service let's you check luggage at your airport and bypass baggage claim, and board a bus to the Walt Disney World resort.   Your luggage (you've attached the special tags before leaving home), is usually delivered to the resort  within several hours of arrival.  On the final day of the trip, prior to boarding the bus to the airport, (if you are flying domestic with participating airlines (Alaska, American, Delta, JetBlue, Southwest and United) you can check your luggage at the resort and receive a boarding pass for the airline.  Once at the airport you can skip the airline check-in counter—  proceed to security.  
If you'd prefer to check your own bags you can still hitch a free ride on the bus,  provided you that you are headed to a Disney resort.
 Here are some specifics:
 Magical express service is booked when you book your resort in must be done at least 10 days prior to arrival have your flight information handy when you make the call.  

Reservations for Magical Express can be made with me as your Disney Travel Consultant.  

Tip the driver as you would  had you paid for the trip $1 - $2 per bag 

is 

 appropriate.

 Special luggage tags will be sent to you.  These tags must be put on all luggage that will be checked at the airport 

 Upon landing at Orlando international airport skip baggage claim (only if you tag your bags) and go to Disney Welcome Center

 located at the main terminal building on the B side level 1.   Don't forget to have your transfer vouchers,  your magic bands and   a photo ID handy.

 O

n the return trip,  expect to be picked up 3 to 4 hours before your scheduled flight departure time for domestic flights and 4-5 hours ahead for international flights 

If a member of your party uses a wheelchair or scooter,  make sure to tell me as your Disney Travel Consultant when  tell the booking your trip on magical Disney's Magical Express.   

If you are flying on a 

"

non-participating

"

 airlines, you are entitled to the free shuttle service too
The good news? It is super convenient and is real money saver.  In fact a family of four can shave at least $103 off their total vacation  cost by taking the Magical Express as apposed to the other forms of transportation.  And it is beyond liberating to leave the lugging of luggage to someone else.  And it's also delightful to bypass check in at the airport on the return trip and each bus has an onboard bathroom.

The downside?  well to call any service "m agical" is to elevate expectations.  It's not really express either as most busses make multiple stops at Disney resorts,  so if time is of the essence it might be not be the best choice.   Same goes for the transportation of luggage.   While the service truly eases the burden of many a family it may 2-3 hours to arrive at your resort room.   So if you need anything right away such as swimsuits, pajamas, medication, snacks etc. be sure to pack it in a day pack  and carry it on to the plane and bring it to the resort yourself.  And lastly we could do without the video that's played throughout the journey but the bus is comfy and the price is   right.