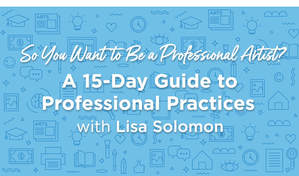 Artist Course from Creativebug.com
​
Are you ready to take the leap into becoming a professional artist? In this four-hour long course, author, artist and educator, Lisa Solomon, teaches you how to present yourself as an artist in the world. Commonly referred to as a "Professional Practices" college-level course, Lisa shares her decades of practical know-how in 15 bite-sized lessons. These classes will help you learn how to create your portfolio, make connections, exhibit, apply for shows, attend residencies, copyright your work, market yourself and so much more. Lisa tells it like is it with cautionary tales from the art and gallery world as well as inspiring stories from her own experience. The accompanying 80-page downloadable PDF is full of rich resources to set you on your path, including helpful samples and web references.
This class is not only a starting point for anyone who is ready to call themselves an artist, but also for working artists who could use some structure and guidance in growing their practice. By the end of this series, you will learn how to take yourself more seriously and see your business dreams come to life.
Learn how to:
Create a CV

Write an artist statement

Do your taxes

Set up a business as an artist

Apply for grad school, residencies, and shows

Create a portfolio

Create a studio space

Balance life and work

Frame and install work

Survive and thrive with failure

Use social media

Understand copyright laws
What you'll get:
A thorough primer on how to launch your professional art career, typically only available as a college-level "Professional Practices" course.

15 HD video lessons you can access online anytime, anywhere

An 80-page PDF course hand-out, with samples and copious web references

Step-by-step expert instruction from author, artist and educator, Lisa Solomon

The ability to leave comments, ask questions, and interact with other students
signup for free trial and get unlimited access to this class and many, many more classes