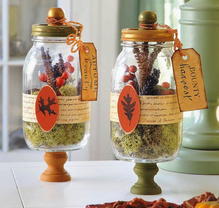 By: 

Niki Meiners from

365daysofcrafts.com

"Make harvest terrariums, miniature earthy scenes with berries, flowers, and moss and anything else you can find. This recycled jar craft is the perfect accent for your fall table or gathering or to give as a gift. It is a fun project that you can do with the kids using found objects or bits and pieces from other leftover crafts or decorations. Use the basic concept to create terrariums with all sort of different themes."

MATERIALS FOR HARVEST TERRARIUMS:
TOOLS FOR HARVEST TERRARIUMS:
Rubber stamps:  Impression Obsession Leaves,  Hero Arts Bird Branch Alphabet,  Anna Griffin Alphabet

Black pigment ink pad

DecoArt Americana Acrylic Paints: Honey Brown, Antique Green, Raw Sienna, Burnt Orange, Gold
DecoArt Duraclear Varnish

Florist wire cutters

Adtech Hot glue gun and glue sticks
BASIC SUPPLIES
serrated knife, sanding block, paper trimmer, paintbrush, newspaper (to cover work surface)
DIRECTIONS FOR HARVEST TERRARIUMS:
1.  On covered work surface, remove lids from jars. Paint one lid, one finial, and one candlestick Honey Brown. Paint remaining lid, finial, and candlestick Antique Green. Paint ovals Burnt Orange. Thin Raw Sienna with equal part water; lightly paint tags. Let dry. Ink tag edges black; set aside. Mix gold paint with equal parts varnish; dry-brush lids and wooden items. Sand edges of ovals to lightly distress. Use ink to stamp leaves in center of ovals.
2.  Use paper trimmer to cut 1-1/2"x12" strips from patterned paper; adhere around bottom center of each jar. Lie jars on sides and adhere ovals to paper strips. Let dry. 
3.  Use serrated knife to cut foam ball in half. Cut pieces of berry and flower sprays and inserts ends into round ball halves, then remove. Apply tacky glue to ends of sprays and reinsert into holes. Use three to four individual stems per ball cut between 3" and 4" length. Place generous amount of glue on bottom of ball. Carefully place ball with floral pieces into jars, securing ball to bottom of jar. Fill bottom of jar with moss, making sure foam ball is completely covered.  (Note: Use paintbrush handle or scissors to position moss on bottom of jar.)
4.  Adhere acorn finial to top of jar lid. Adhere candlestick to bottom of jar, carefully centering jar on wooden candlestick. Use ink to stamp sentiments on tags. Use decorative branches and leaves from stamp set to embellish sentiment. Cut 8" wire lengths; tie around acorn finial. Thread one wire end through tag to secure. 


Recycled or purchased wide-mouth quart jars

Wooden items, two each: acorn finial, 2"; candlestick, 1-7/8"x1-15/16"; oval, 2-1/2"

Off-white script patterned paper

Artificial fall greenery: orange berries, purple berries, purple floral stem, Spanish moss

Dow STYROFOAM Brand Foam Ball, 1-1/2"

Tags, 1-1/2"x3-1/4", two

Wrights Simply Creative Topaz Seed Bead Wire
Download or Print instructions click here
[powr-popup id=3eebdf7b_1547656818]