Amethyst Dream Beaded Elastic/Stretch Bracelets (Set of 5)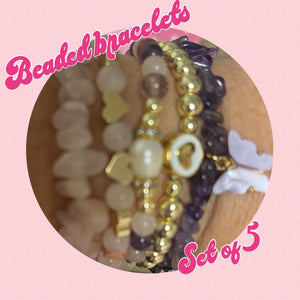 SKU: BT235-10-Amythestset-BV-10
Introducing these  Amethyst Dream Beaded Elastic/Stretch Bracelets (Set of 5) - your ultimate fashion jewelry for everyday wear.

These one-of-a-kind bracelets are meticulously crafted with love and attention to detail. Each bracelet measures 7-7.5" in length, adorned with a stunning combination of Amethyst natural stone chip beads, heart beads, round gold beads, and spacer beads.

The Amethyst Dream Set is a stackable collection of 5 bracelets, designed to add a touch of elegance and sophistication to any outfit. Picture yourself wearing these beautiful bracelets, showcasing the mesmerizing beauty of Amethyst.


The first bracelet features Amethyst chip beads with a delicate purple butterfly charm, adding a whimsical touch to your ensemble.
The second bracelet boasts round 4mm gold beads with a heart bead, symbolizing love and affection.
The third bracelet showcases multi shades of purple Amethyst 4mm beads, radiating a sense of clarity and tranquility. Paired with gold round spacer beads, this combination is simply captivating.
The fourth bracelet features pinkish round 4mm beads, complemented by gold heart beads, exuding femininity and grace.
And finally, the fifth bracelet showcases pinkish chip beads, adding a unique texture and charm to the set.

Amethyst, known for its powerful properties, represents clarity and purification. It cleanses the emotions and helps rid the mind of negativity, allowing you to embrace positivity and inner peace.

This set of Amethyst Dream bracelets is not only a fashion statement but also a meaningful gift option. Surprise that special girl in your life with this exquisite set as an anniversary gift, birthday present, or simply to show how much you care.

At Pink tiful of LOVE, I take pride in offering great products that make a difference. Explore the rest of my store for more unique and high-quality items. If you have any questions, feel free to reach out to me at rpink80 at pinktifuloflove Embrace the beauty of Amethyst and let your dreams come true with the Amethyst Dream Beaded Elastic/Stretch Bracelets (Set of 5).