Brown Mushroom Glass Beaded Elastic/Stretch Bracelet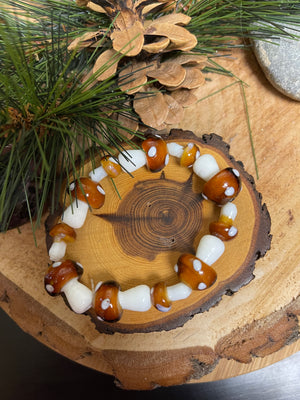 Pink tiful of LOVE
Your trusted source for great products
Station Square Pocatello ID               
Mushroom Bracelet
Enhance your bracelet collection with this Brown Mushroom Glass Beaded bracelet. This bracelis  is made of cute glass beads in the shape of mushrooms. They each have white stems with a brown cap and small white dots.
Length: 7"
Smallest Bead Dimensions: 9.5mm x 13.2mm
Largest Bead Dimensions: 14.4mm x 20.1mm
Material: Glass
Shape: mushroom
Finish: Glossy
Color: White, Brown & Tan
Great gift for that special girl, anniversary gift, birthday gift or gift to say how much you care.
Check out the rest of my store for other great products!
Questions? You can reach me at rpink80 at pinktifuloflove