Creative Memories Powerful & Pink Theme Pack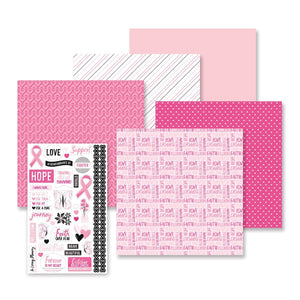 Pink tiful of LOVE
Creative Memories--Making Memories One Page at a Time
www.pinktifuloflove.com
rpink80@pinktifuloflove.com
Notes from this Store
Fast Shipping
Secure Payment
Satisfaction Guaranteed
I LOVE This
Creative Memories Powerful & Pink Theme Pack
NOTE:  If product is out of stock, email   rpink80@pinktifuloflove.com to order more or shop at Creative Memories and please use me as your Advisor at   https://creativememories.com/user/pinkysbiz

Ebay Buyers: send a message to me  or shop creative memories and use Rhonda Pinkerton as your advisor.
Create layouts full of strength and support with the Powerful & Pink Theme Pack
! This breast cancer awareness scrapbook kit was inspired by the brave fight patients show on their journey to remission and the love and courage of friends and family who encourage them every day. It features four designer papers with patterns that take a stand like repeating ribbons, hearts, diagonal stripes and a collage of motivating words, while its bold palette raises its voice in pink, black and white. It also includes two sticker sheets that inspire and uplift with words like "Thriving and surviving," "Fighter" and "Think pink," icons like butterflies, ribbons and hearts and complementing border stickers. Complete with one sheet of Pink Cardstock, this pack is perfect for events during Breast Cancer Awareness Month, milestone appointments and remission anniversaries.
Powerful & Pink Theme Pack includes:
4 sheets of designer paper with breast cancer support patterns
1 sheet of stickers — one with icons like hearts, butterflies and breast cancer awareness ribbons and titles like "Fighter," "Thriving and surviving" and "Think pink," and one sheet of themed border stickers
1 sheet of Pink Cardstock
Questions? You can reach me at rpink80 at pinktifuloflove