Silver and Gold Concentric Rings Pendant with a Cross Charm Necklace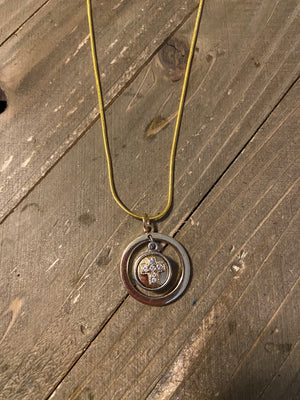 Gold Chain  with a Cross Mini Snap Charm in a Concentric Rings Mini Snap Pendant
This listing is the Cross Charm and Concentric Rings Snap Pendant and gold chain. 
Express yourself in a snap! This Cross Mini Snap Charm is designed with metal and features a pretty cross design with tiny crystal clear gems. This charm can Snap onto other snap bracelets or pendants, or rotate designs when you need a fresh change!

 Details: 
Diameter: 12mm
Metal Color: Gold & Silver
Have a pendant you can quickly change up the design with using Concentric Rings Mini Snap Pendant! Designed with a mini-sized snap hole in the center you can use to quickly change between designs, this beautiful pendant features a pair of smooth, glossy rings - the snap setting dangles inside of a larger ring. Wear it as it is, or use snap charms to completely transform its look!
 Details:
Diameter: 7/8"
Metal Color: Gold & Silver
  Perfect gift for that special girl, anniversary gift, birthday gift or gift to say how much you care.
 Also check out my website for more  www.pinktifuloflove.com
plenty more earrings, necklaces, bracelets, knitted hats and scarves, ruffled scarves, wine glasses, wine bottles, decorated clay pots, unique crafts  at my website.  would love for you to stop on by at  www.pinktifuloflove.com