Madagascar Rose Quartz Beaded Elastic/Stretch Bracelet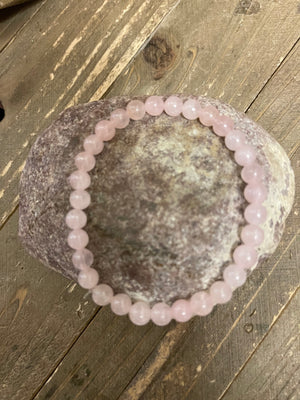 Pink tiful of LOVE
Your trusted source for great products
Station Square Pocatello ID               
Rose Quartz Beaded Elastic Bracelet
One of a kind, fashion jewelry, everyday jewelry.
So soft, so feminine, so affordable! Rose Quartz  gemstone beads  range in color from pale hues to darker rose shades. With the exception of These Madagascar rose quartz beads, the beautiful pink color of these rose quartz beads is a result of heat-treating. Almost all rose quartz on the market today is heat treated, but natural deposits can still be found in Brazil and Madagascar.
Rose quartz is said to open its wearers to love and compassion of all sorts. Not just for romantic love, this stone is also thought to encourage a love for the self and help build meaningful friendships. It is often associated with the heart chakra.
Dimensions:

bracelet Length: 7 "
Bead: 8mm
Pink

Natural stone
Great gift for that special girl, anniversary gift, birthday gift or gift to say how much you care.

 Check out the rest of my store for other great products!
Questions? You can reach me at rpink80 at pinktifuloflove