Red & Orange Sparkly Rhinestone Ball Beaded Elastic/Stretch Bracelet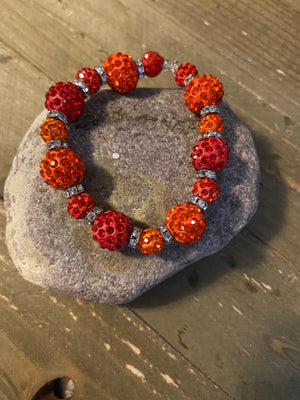 Pink tiful of LOVE
Your trusted source for great products
Station Square Pocatello ID              k
Sparkly Rhinestone Ball Beaded  Elastic Bracelet:
Red and orange bracelet                       
Bracelet Size:Length:(approx)7 inches (Elastic)
Bead Length: 2.5mm to 11mm
Bead Width:  6mm to 13mm
Accessorize with a bit of sparkle! This Sparkly Rhinestone Ball Beaded Elastic Bracelet features rhinestones encrusted balls in small and large sizes in vibrant orange and red colors, as well as disc shaped metal spacers with rhinestones.

Great gift for that special girl, anniversary gift, birthday gift or gift to say how much you care.

 Check out the rest of my store for other great products!
Questions? You can reach me at rpink80 at pinktifuloflove