Ruffled Scarf handmade with Boogie Sashay yarn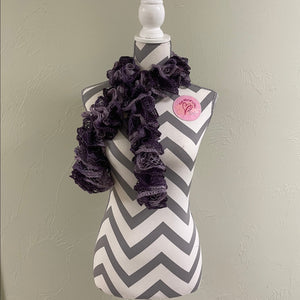 Pink tiful of LOVE
More than an Online Store
www.pinktifuloflove.com
rpink80@pinktifuloflove.com
Fast Shipping
Great for Gifts
Secure Payment
Satisfaction Guaranteed
I LOVE This
Ruffled Scarf handmade with Boogie (purples) yarn

This scarf was knitted on the knitting loom with Red Heart Sashay Yarn. This scarf has so many possibilities and is versatile. Would make an special gift for that special girl, daughter, friend, Mom, Grandma or for YOU. 


Scarf Length is  38"
 Check out the rest of my store for other great products!
Questions? You can reach me at rpink80 at pinktifuloflove